3rd Annual Survey: CMOs Increasingly Being Tapped to Lead Growth in Difficult Business Environment in 2022
April 5, 2022
Pandemic Fallout Created Both Opportunities, Challenges for CMOs
HOUSTON, TX – March 2, 2022 – Chief Outsiders, the nation's largest and fastest growing firm offering fractional Chief Marketing Officer services with Fortune 500 experience, today revealed the results from the third annual survey of its CMOs on their 2022 outlook. The results speak to the changing expectations that the C-suite holds for CMOs, the impact of the pandemic and changing customer behaviors and preferences (among them those pertaining to ESG) on companies and companies' marketing priorities.
"While it seems that we finally have the worst of the pandemic behind us, the impact of Covid on the economy, on businesses' growth prospects and on customer preferences and behaviors, will continue to be strongly felt for quite some time to come. More than ever, CMOs are being called upon to take the leading role in helping companies accelerate growth in this new environment, many of whom haven't embraced digital marketing solutions in any significant way until now," said Art Saxby, founder and co-principal of Chief Outsiders.
"Since labor shortages also impact the marketing function, and technology makes remote work more viable than ever, fractional CMOs are rapidly becoming a natural option for an increasing number of CEOs faced with a need to hire specialized executive-level help for achieving their growth objectives," said Pete Hayes, CMO and co-principal of Chief Outsiders.
Key Survey Takeaways:
Respondents were mixed on their expectations for 2022, with 47 percent of CMOs surveyed reported having a pessimistic view on the New Year. 46 percent expected the economic circumstances to improve.
Table 1, Q15: Expectations for 2022 (N: 57)

CMOs identified as main headwinds for companies' growth a continued shortage of talent, on-going supply chain issues, inflation, and potential government COVID-19 measures. In other words, CMOs expect that the uncertainty and longer-term impact of the pandemic will continue to weigh negatively on companies' growth prospects.
Table 2, Q16: Impediments to growth in 2022 (N: 55)

In the current environment where an unprecedented confluence of quickly evolving economic and sociological factors impact not only what customer have to be spend, but also how they collect information on alternatives and what factors weigh in when they make a purchasing decision, CMOs are called upon by their CEOs, first and foremost, to set the growth agenda. Second is lead generation (filling the sales pipeline), and third is building the organization to achieve growth goals. 76.4 percent of respondents say the shift in growth emphasis is permanent, while 12.7 percent say it's not.
Table 3, Q8: CEO priorities for CMOs (N: 56)

Another important factor impacting growth prospects for businesses are changes in customer buying behavior that are not new but have been accelerated through – and because – of the pandemic. Important changes to behaviors, next to the digitalization of the buyer journey, include growing concerns with ESG where 69 percent of respondents said that a brand's stance on environmental and social issues is somewhat important or extremely important to customers when making purchasing decisions. And more than 83 percent said that CMOs should take the lead in defining and activating a brand's ESG initiatives.
Table 4, Q36: Importance of ESG (N: 54)

Upcoming changes to companies' ability to leverage third party data is an emerging challenge marketers will need to address. When asked where marketers can best capture and manage first party customer data, at-in events came second to last (the owned website and social media came first) – the same identical picture could be seen for both B2B and B2C customers.
Table 5, Q27: Capturing and managing 1st party B2B customer data (N: 55)

Table 6, Q28: Capturing and managing 1st party B2C customer data (N: 48)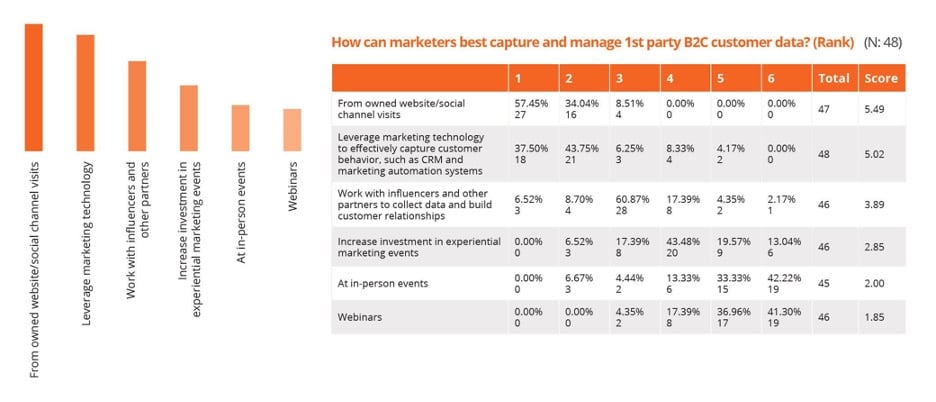 CEOs also no longer need CMOs to be on payroll, let alone check in every morning at 08:00 AM. Increasingly, attitudes are becoming more positive towards fractional CMOs where 70 percent of respondents said that fractional CMOs are becoming ever more accepted by the C-suite, with only 18 percent indicating that only some CEOs are willing to work with fractional CMOs.
Table 7, Q11: CEO attitudes towards fractional CMOs (N: 56)

The complete results of the survey available upon request.
We surveyed more than 60 CMOs with Fortune 500 experience in over 1,400 enterprise and mid-market companies on their perspectives of their marketplaces. This marks the third annual CMO survey on what to expect this year in market trends and company growth.
Chief Outsiders is the leading Fractional CMO firm that helps CEOs accelerate growth through the development and disciplined execution of well-crafted growth plans. The firm has more than 100 part-time, or fractional, Chief Marketing Officers (CMOs) engaged from coast-to-coast. Unlike traditional marketing and management consulting firms, each CMO has held the position of VP Marketing or higher at one or more operating companies, including many Fortune 500 firms. Chief Outsiders CMOs have served on the executive team of more than 1,400 client companies, driving growth strategy and execution plans by offering instant access to talent with highly customized and flexible engagements.
Because of its market-based growth plans, quality of leadership, and experienced team, Chief Outsiders has been recognized for the past eight years by Inc. Magazine as one of the 5,000 fastest growing privately held companies in the US, and was recognized in 2019 as a Forbes Small Giant. Chief Outsiders' CEO Art Saxby and Principal Pete Hayes are the co-authors of "The Growth Gears: Using a Market-Based Framework to Drive Business Success," an Amazon #1 best-seller for business owners and CEOs. For additional information about the companies who trust Chief Outsiders as their premier source for business growth acceleration, click here.